Vision Statement

Visitor Information

Animals

Animals Off Display

Animal Outreach

Cute Alert

How We Keep Track


Games & Videos

Jobs & Careers

Organization

Business Opportunities

Meet our Zoo Partners

Sample your Product
| Regions > Indomalaya Outdoor Exhibit > Malayan tapir
Malayan tapir
Location at the Zoo: Indomalaya Outdoor Exhibit
Region:
Indomalaya


Class:
Mammalia


Order:
Perissodactyla


Family:
Tapiridae


Genus:
Tapirus


Scientific Name:
Tapirus indicus


Description
: The tapir is a distant relative of the horse and rhinoceros being an odd-toed ungulate in the order Perissodactyla. Tapir retain many of the primitive traits of their ancestors. They are unique in being the only ungulate which has four toes on the front feet and three toes on the hind feet. Body colour is black at the front with a white back and sides. The body is thick and torpedo shaped. Legs are short and stout. The muzzle is lengthened to form a short, mobile, sensitive trunk. The eyes are small and flush with the sides of the head. The tail is short.

Length: Head and body 1.8 - 2.5 m.
Height at shoulder: 0.7 - 1.0 m
Weight: 225 - 300kg, at birth 4.5 - 6 kg


Distribution
: Myanmar, Thailand, Cambodia and the Indo-Chinese peninsula to Malaya and Sumatra.


Habitat
: They by far prefer dense, tropical forests with a permanent supply of water. Many live by river edges, swamps, and lush streams. Daytime is spent bedded down in dense undergrowth.


Food
: Browses on aquatic vegetation and the leaves, buds, twigs and fruits of low growing plants.


Reproduction and Development
: Adults are essentially solitary. They pair up mainly for mating which occurs at any time during the year when the female is in estrous. They signal this with shrill whistles. Courtship begins with a ritual circling, nose to rump, nipping and biting at each other's hind legs and undersides, snorting and making clicks, chirps and shrill whistles. Mating takes place on land or in the water. The couple stays together for several weeks. Then the male leaves the female to raise the young. The gestation period is 13 months. One, sometimes two offspring are produced. The young have stripes and spots on the body and legs, resembling a watermelon. This provides effective camouflage in the dappled forest light. These markings disappear at about 5 months. The youngster follows its mother soon after birth, pausing frequently to nurse. It gains weight rapidly. The young tapir is ready to mate at four years.


Adaptations
: Young tapirs are precocial and have cryptic colouration. Adults have disruptive colouring which enables them to escape detection in the shadowy moonlight. Although most active at dawn and dusk (crepuscular), tapirs are also diurnal and nocturnal. They have a very good sense of smell and hearing, compensating for a lack of good vision. As a herbivore it relies on its nose to find food, extending it to explore the ground and shrubbery by smell and by touch via sensitive tactile hair bristles at the tip of the snout. The upper lip is elongated into a well developed, muscular proboscis. This distinctive trunk-like snout is a useful foraging tool as well as an alarm sensor. When food is found, the trunk retracts out of the way and the tapir clips off the vegetation with its incisors. At night they follow regular paths to food and water, weaving elaborate networks of trails through the undergrowth. They have surprising agility enabling them to escape pursuit. Its torpedo shaped body combined with its strength, sends it crashing through almost impenetrable thickets often escaping predators as it heads for the nearest body of water. They swim with surprising speed and grace and can stay submerged for long periods of time. They are usually silent but do use a variety of sounds when mating as well as whistling when frightened.


Threats to Survival
: Loss of habitat due to deforestation for lumber, rubber plantations, agriculture, and settlement. They are now protected by game laws and are in sanctuaries. Their natural enemy is the tiger.


Status
: IUCN: Endangered; CITES: Appendix l


Zoo Diet
: Herbivore cubes, carrots, apples, romaine lettuce, timothy hay.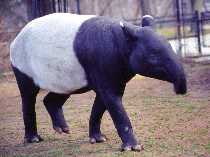 ©