Vision Statement

Visitor Information

Animals

Animals Off Display

Animal Outreach

Cute Alert

How We Keep Track


Games & Videos

Jobs & Careers

Organization

Business Opportunities

Meet our Zoo Partners

Sample your Product
| Regions > African Savanna > Sable antelope
Sable antelope
Location at the Zoo: African Savanna
Region:
Africa


Class:
Mammalia


Order:
Artiodactyla


Family:
Bovidae


Genus:
Hippotragus


Scientific Name:
Hippotragus noir


Description
: The sable antelope is one of the larger species of antelope. Both sexes have long horns that arch backwards. The horns are stout and heavily ringed. Males and females look alike until about three years of age, when the males become darker and their horns and body grow larger. Males are dark brown to black, while the females range in colour from golden brown to nearly black. Calves under two months are light tan, with faint markings.

Both sexes have a white underbelly, inner thighs and buttocks, white cheeks and a white chin. The coat is short and glossy. The lips and muzzle are white and there are long white hairs below the eyes which make a pattern from just below the eye to the muzzle. The mane on the nape of the thick neck is upright and well developed. The mane on the throat however, is short. The tail is moderately long and tufted at the end. Ears are large, long, and pointed.

Length: Body and head: 1.9 to 2.7 m. Horns: 80 to 165 cm.
Shoulder height: 1.4 to 1.65 m
Weight: 190 to 300 kg


Distribution
: From south east Kenya, eastern Tanzania, Mozambique to Angola and southern Zaire.


Habitat
: Savannah woodland and grasslands (preferred habitat), floodplain grasslands and thickly forested and grassy areas no further than two to four kilometres from a watering hole.


Food
: Grasses, leaves of shrubs and herbs, especially ones growing on termite mounds. They are browsers and grazers. They regularly visit salt licks and will chew on bones if the soil is mineral deficient.


Reproduction and Development
: Sable antelopes are seasonal breeders. Females can conceive at two and a half years of age. The gestation period is from eight to nine months. The time and duration of calving varies across the habitat range and appears to coincide with the height of the growing season (i.e. after the rains). Calves weigh 13 to 18 kg at birth, and the mother and baby remain hidden for at least 10 days, forming a maternal herd with other cows/calves. As they outgrow their three week stage of concealment, the calves join a peer group and only find the mothers to nurse.

Calves are weaned by six to eight months. Herds consist of about 30 to 75 females and offspring. and a dominant male (in a good habitat). Young males leave the herd at three to four years of age to join a small bachelor herd of about 12 individuals, or may live alone until maturity. When the herd becomes too large the dominant male loses control and the young females are stolen by other males from a bachelor herd to form new herds. There is a continuous struggle for dominance among the females.

The highest ranking female initiates most of the herd movements, even in the presence of the dominant male. Often the daughters of the dominant females become the new dominant females. The life span of these antelopes is up to 18 years.


Adaptations
: When pursued, sable antelopes can run up to 57 km/h with great endurance. They run in a bunch, never single file. When wounded or cornered, they become savage and fierce, charging and using their horns with great dexterity. They will confront lions and other predators and can kill a predator with their horns and will also kick and bite. They can be quite aggressive and other animals already at a watering hole will defer to them. They graze mostly in the morning and evening, and visit the watering hole every evening and drink quickly. They move about, never remaining long in one area and they avoid human settlements. They are diurnal, but are less active during the heat of the day. Sable antelope males will fight among themselves; they drop to their knees and use their horns, but seldom inflict injury upon each other.


Threats to Survival
: The sable's horns have contributed to the sharp decline of the animal, being a highly prized hunting trophy. In addition to heavy hunting, numbers have been reduced severely as part of regional Tse-tse fly control programs. Other threats include loss of habitat to farmland and towns, the spread of diseases from farm animals, and a rapidly growing human population. The young are also vulnerable to predation by spotted hyenas and leopards.


Status
: IUCN: Least Concern; CITES: Appendix I


Zoo Diet
: High fibre bulk cubes, timothy hay, and browse.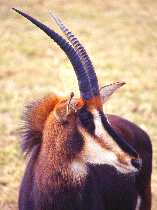 ©