Vision Statement

Visitor Information

Accessibility

Accommodations

Admission

CityPASS

Directions & TTC

Discovery Zone

First Nation Art Garden

FoodServices

Hours

Map of Zoo

Meet the Keeper

Retail & Rides Locations

Special Needs & Services

Tundra Trek


Animals

Games & Videos

Jobs & Careers

Organization

Business Opportunities

Meet our Zoo Partners

Sample your Product
The New Tundra Trek
The Toronto Zoo opened the new 10-Acre Tundra Trek Exhibit August 1, 2009. This much-anticipated award winning exhibit is anchored by a state of the art polar bear habitat as well as snow geese, Arctic fox and wolves, reindeer and snowy owl.
Free with Zoo admission
, the Tundra Trek will help our visitors understand the impacts of climate change and global warming.
Polar Bears
The Bears are Back! Our newly arrived polar bears are Inukshuk (male), Nikita (female) and Aurora (female). All three were rescued by the Zoo when they were orphaned in the wild. Now you can enjoy these magnificent lords of the north in their newly refurbished exhibit, five times larger than the previous one, and featuring a bear den where visitors can go eye to eye with a live polar bear, state-of-the-art breeding and maternity areas and an environmentally friendly green roof.
Press Room: TORONTO ZOO GOES UNCONVENTIONAL FOR POLAR BEAR CONSERVATION
Polar Bear Fact Sheet
PBI - Toronto Zoo Arctic Ambassador Centers
Arctic Wolves
The Arctic wolf also known as the polar wolf or white wolf is a very social animal living in packs for hunting and mutual protection. There is an alpha male and an alpha female, who are the only ones in the pack to reproduce. All of the adults attend to the rearing and education of the young. Watch the pack interactions from the Wolf Bridge or as you're relaxing in our new Polar Patio restaurant.
Arctic Wolf Fact Sheet
Arctic Foxes
While most of these beautiful animals have white fur in winter and two-toned brown fur in summer, a small proportion, around 5%, have stunning coats of pale blue-grey in winter and darker gray in summer. Breeding pairs maintain den systems with several exits and entrances. After a gestation period of 49 to 57 days, a litter of 8 to 11 kits are born from April through July.
Arctic Fox Fact Sheet
Reindeer
Reindeer and caribou are the only deer species where both sexes have antlers, which they use mostly for defence against wolves and to clear away snow to get at food. One bull may have a harem of up to 40 cows. Reindeer are protected from the cold by thick coats of fur, hollow hair for extra insulation, short, compact bodies, and hooves that double as snowshoes. In the summer we provide cold showers to cool them off.
Reindeer Fact Sheet
Snowy Owl
This bird has the distinction of being one of the heaviest of North American owls and the largest in overall size. The females are larger than the males. This efficient bird of prey nests mostly north of the Arctic Circle. Some snowy owls migrate south in winter, others don't. These raptors swallow small prey whole. Stomach juices digest the flesh, bones, teeth and anything else indigestible is regurgitated in pellet form. They will eat practically anything that comes close enough to catch.
Snowy Owl Fact Sheet
Lesser Snow Geese
Over 2 million of these geese nest in Canada's north. Because the nesting colonies are spread over a huge tract of the Arctic, these geese use many different and lengthy migratory pathways, noisily flying in their undulating and shifting U shaped formation, composed of family groups, moving both day and night. These monogamous birds return to the same nesting site year after year.
Snow Goose Fact Sheet
Tundra Site Plan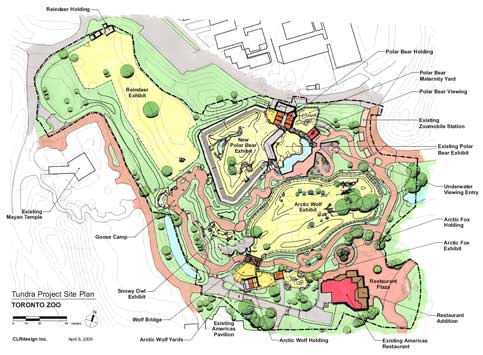 Photo: © Thomas Breuer / WCS