All Events
Orangutan Awareness Weekend
Saturday, August 24 & Sunday, August 25, 2013
Indo-Malaya Pavilion 11:00 am to 4:00 pm


Did you know? The Toronto Zoo is the only Zoo in Canada with Sumatran orangutans! Check out an orangutan enrichment interpretive station, artifacts, and artwork painted by one of our talented orangutans. Take part in the sealed-bid auction for your chance to win a number of prizes, including a one-year Membership to the Toronto Zoo, orangutan art and more. Sumatran orangutans are critically endangered with the wild population experiencing a 3% drop, with forest fires in Sumatra taking the lives of over 100 orangutans says the Sumatran orangutan conservation project, since March 2012. There has been a 50% decrease in orangutan populations since 1992. Due to the deforestation of their rainforest homes to make way for palm oil plantations. Palm oil is an ingredient found in many products we use everyday, from chocolate bars, cereals, and soaps.

Join us for a special Orangutan Keeper Talk at 1:00 pm daily and find out how YOU can commit to conservation efforts to help the extremely endangered Sumatran orangutans.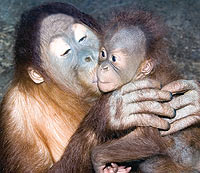 "Adopt" a Giant panda today or choose your own favourite animal.
Adopt an Animal. Support your Zoo. Order on line or call 416-392-9114.


*Please note all events subject to change without notice.