All Events
Events
Happy 2014! Toronto Zoo is one of the most influential and innovative education facilities in Canada. The Toronto Zoo offers a great line up of fun-filled programs throughout the year.
Whether it's a week at summer day camp, sleeping under the stars at Serengeti Bush Camp, or one of our exciting daytime or evening programs, learning just comes naturally at the Toronto Zoo! In addition to the programs we also offer a variety of educational resources, interpretive graphics/displays, guided tours and outreach, plus volunteer opportunities!
And it's never too early to start planning and get ready for some Zoo-pendous experiences.
Click Here!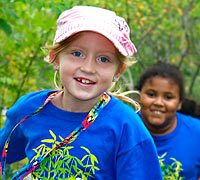 Massasauga Rattlesnake Workshop
Saturday, April 26, 2014
10:00 am to 2:30 pm, Administrative Boardroom, 361A Old Finch.
Each year, the Toronto Zoo hosts rattlesnake workshops for the people who share habitat with rattlesnakes near their homes and cottages, and where they work and play. After a power point presentation, discussions about the natural history of rattlesnakes will be followed by ample opportunity to ask questions. Learn how to identify the Massasauga Rattlesnake and after lunch meet a live rattlesnake. Space is limited. We suggest you bring a lunch or eat at zoo restaurants. Please note that the program length may be too long for children under eight years of age. For a $5 donation: snacks, lots of fun, resources to take home and time to visit our interactive Massasauga area on the Zoo site. To register or for more information please call 416-392-5968 or email
alentini@torontozoo.ca

Teachers' Day
Sunday, April 27, 2014
9:30 am to 3:30 pm
Discover how to take your students' learning to a new level within the natural setting of the Toronto Zoo! Visit our educational booths in the main courtyard to learn more about the school programs and teacher resources available, as well as upcoming events at the Zoo.
This teacher appreciation event is open to:
Teachers currently certified by the Ontario College of Teachers
Early Childhood Educators, Education Assistants, and Child and Youth Workers currently working in a school setting
Graduating Teacher Candidates
*
Pre-registration is mandatory for this event.
Depending on your position, you may be required to provide the following information at the time of registration: full name, board/school email address, OCT/Federation number, school name and phone number, position, and/or grade level.
For more information about Teachers' Day and to register, click here.

2014 Earth Day Celebrations and Farmers' Market
Saturday, April 26th and Sunday, April 27th
2:00 pm to 6:00 pm
This year the Toronto Zoo is themeing its annual Earth Day celebrations All Things Local. Join us for two days where we demonstrate how supporting local food suppliers and leaders in conservation can help to save and protect the planet. Learn from environmental and conservation organizations about the local projects you can participate in to help habitats, Ontario's bio-diversity and how to protect species in your own back yard. Why not kick start Ontario's growing season's bounty by purchasing locally grown produce from local farmers at the Toronto Zoo's 2014 Earth Day Farmers' Market? Bring your reusable shopping backs and CASH only sales!

Visit the award winning Tundra Trek to meet members of Toronto's conservation organizations working towards a healthier planet. Take part in Earth Day themed games or create something to help animals with partners and eco-exhibitors such as Toronto Zoo's Adopt-a-Pond and Great Lakes Programs, Earth Day® Canada, Parks Canada and Rouge Park, ZooShare and Polar Bear International.

On your way out, visit Toronto Zoo's 2014 Earth Day Farmers' Market. Local farmers will be onsite with locally grown produce and environmentally friendly products made right here in Ontario's Greenbelt. Speak with farmers themselves to learn about what Ontario has to offer, how you can reduce your carbon footprint by buying locally grown foods and how close these farms are located to your front door.


Toronto Zoo's Annual Rain Barrel Sale 10am to 4:30pm

Save money on your water bill and support Zoo conservation initiatives by pre-ordering your Rain Barrel today. A rain barrel is a water tank which is used to collect and store rain water for reuse, such as watering gardens. Partnering with Rainbarrel.ca, Toronto Zoo reinforces its mission to promote the importance of biodiversity, the impacts of water shortages on all life and the importance of the 3 Green R's (Reduce/Reuse/Recycle). Visit RainBarrel.ca/TorontoZoo today to order your rainbarrel and accessories for pick up at the Zoo on Saturday April 26th and Sunday, April 27th. Please note that payment available only online when you pre-order.
Adopt-A-Pond's 15th Annual Spring Toad Festival
Saturday, May 3 & Sunday, May 4, 2014
10:00 am to 4:00 pm, Americas Wetlands
Celebrate the arrival of spring by experiencing the sights and sounds of amorous male toads in search of that special someone! Our annual wetland festival is scheduled around the explosive breeding ritual of American toads at our very own Americas Wetlands Outdoor Exhibit...

Science Rendezvous
Exploring The World Of Science At The Toronto Zoo
Saturday, May 10, 2014
10:00 am to 3:00 pm
University of Toronto Scarborough Campus (UTSC) students from the Let's Talk Science Program will join the Toronto Zoo, for a fourth year, in helping to bring science to life. The event, Science Rendezvous, is a national day of festivities celebrating all things science across Canada. A number of UTSC student volunteers will lead activities and displays on site, from 10:00 am to 3:00 pm, to encourage Zoo visitors to think about what makes animals so amazing and unique through the prism of science. With this year's event coinciding with Migratory Bird day, a number of the activities/displays have been centered around this theme but you will also get to explore fun and educational scientific facts about our polar bear family, including adorable cub Humphrey, and many other animal species. All in all, there are a variety of stations at designated locations around the Zoo site, where visitors can partake in activities and have their passport stamped. Also featured as part of this event are professors providing talks to visitors at various times. Event FREE with Zoo admission. Any questions contact programs@torontozoo.ca

15th Annual International Migratory Bird Day
Saturday, May 10, 2014
This year's theme is "Why birds matter: the benefits to humans and nature". It shares the many ways in which birds matter to the earth, to ecosystems, and of course, to us. One and two hour guided bird watching tours of the Rouge Valley and around the Zoo site will be conducted on the hour from 8:00 am to 3 pm. Tours are $10.00 per person...

World Turtle Week
Saturday, May 17 to Monday, May 19, 2014
Main Event: Americas Wetlands
Also find us in the: Australasia, Indo-Malaya and Americas Pavilions
10:00 am - 4:00 pm
Turtles around the world are threatened with extinction, but they are also some of the most honoured and celebrated creatures on earth. Join the Adopt-A-Pond Wetland Conservation Programme to discover the diversity of culture and mythology associated with turtles; learn how conservationists are helping to save turtles globally and how you can protect these amazing animals here in Ontario...

10th Annual Great StridesTM Walk, Cystic Fibrosis Canada

Sunday, May 25, 2014
Check-in 8:00 am to 12:00 pm
Event activities run until 2:00 pm
It is the 10th annual Great Strides™ walk at the Toronto Zoo presented by BMO Capital Markets.

Go WILD! This year as we hit the creature trail with special guests Chris and Martin Kratt - aka The Kratt Brothers from the award winning TVO and PBS kids show The Wild Kratts presented by Centreville.

Registration fee is $25 which includes your entry to the zoo, discount on tickets to The Kratt Brothers show, and BBQ lunch. Register today at cysticfibrosis.ca/greatstridesand choose Toronto!

* Please note $10 parking fee not included


*Please note all events subject to change without notice.